Anonymously Travel to Any Part of the World With Amicus International Consulting
Anonymous travel is not an easy thing to do. Especially if many people are looking for you. Avoid these circumstances and situations where people who you don't want to follow you by getting a new identity with Amicus. Contact us and get a FREE case evaluation today.
Follow These Steps to Anonymously Travel Away From Stress and Problems

Submit
Fill out the form on our contact page.
Explain your case and we will get back
to you within 24 Hours.

Evaluate
Our experts and experienced consultants
will go over your application and
evaluate the best option for you.

Respond
Once your case is evaluated and
approved, we will then contact you
accepting you as a client.

Planning
Once we accept you as a client, we will start
planning and discussing in-depth your
case and how we can help navigate it.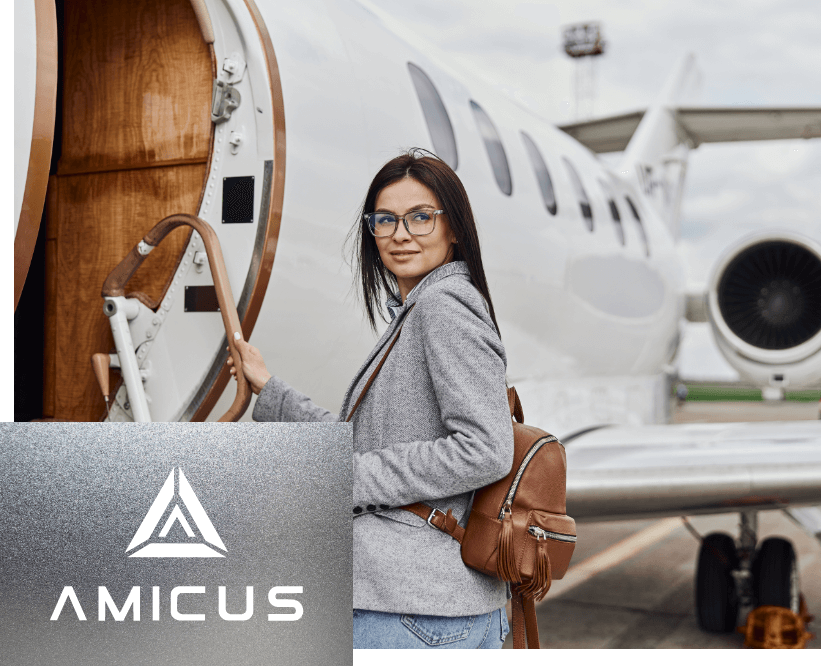 Travel to Your Destination of Choice, Untraceable, and Completely Anonymous Travel
Anonymous travel anywhere in the world!
At Amicus International Consulting, we can provide you with means of traveling safely from country to country anonymously. Whatever your purpose or reason, be assured that we can arrange safe passage anywhere in the world without compromising your security and ensuring your anonymity. We value your security, safety, and anonymity. That is why we will keep all the information safe and secure when you work with us. Whatever your destination, how you get there, and the people going with you, Amicus will protect these to ensure you stay an anonymous traveller.
Amicus International Consulting has been in the industry working with experienced international lawyers all over the world for 37+ years. We act as a referral agency that helps you get in contact with knowledgeable and expert lawyers to help you enjoy anonymous travel to the country and destination you want. We also offer other services such as procuring a new identity, a second passport, crisis management, reputation rebuilding, and treaty transfers. All the international lawyers we worked with have more than 107 combined years of experience in the business and have up-to-date knowledge regarding the laws and regulations on how to travel anonymously.
The Benefits of Anonymous Travel to Your Destinations in a Safe and Secured Way
There are many reasons why people choose anonymous travel. But the #1 reason the majority of the people prefer traveling anonymously is to protect and hide their identity. Some people need to protect and hide their identities while traveling, some for security reasons such as businessmen, politicians, journalists, etc. They need to avoid being tracked especially if their purpose of traveling is important, dangerous, or critical to their life and liberty. If their location is tracked by malicious people, they may face dangerous and harmful situations.
FAQs About Anonymous Travel
To disappear effectively during your anonymous travel, you need to prepare beforehand. Having a second identity in place with the needed passport will greatly help. Remember, going to another country without a valid and legal passport will be very problematic. Especially if you are going to places that will require you to show identification such as going to private meetings in secured places where you need to verify who you are before getting in. Preparation is very important to enjoy an anonymous travel.
There are many reasons why people prefer to travel anonymously. However, the main reason is protection and security. Some occupations need more security and protection especially if they are traveling for a very dangerous reason such as meeting powerful people or moving a witness from another country to the hearing destination.
Here at Amicus International Consulting, we value your privacy and security. That is why we do not divulge your personal information when you become an anonymous traveller. For more details of our travel anonymous service or VIP membership for a safety guarantee, contact us.
If you need to hide and protect your real identity, we highly recommend anonymous travel. There are certain occupations where it is very beneficial for them to protect their identities such as anonymous writers and journalists. These people need to hide their real identities to protect their families and loved ones especially if they are handling important and dangerous news and topics. It also helps to hide your real identity and ensure anonymous traveling if you are meeting an informant. You need to protect their identity and make sure you are not followed by dangerous entities.
Yes, you can pass through the airport and get into your flight without encountering any problems even if you choose anonymous travel. All you need to do is prepare the legal documentation we provide and go through security as you normally would. You will need to show your passport and some might ask for a valid ID. Always prepare a valid ID when traveling anonymously. Make sure the name in your passport is the one that you will be using at your destination, preferably a second identity to hide from those trying to follow you. And do not make yourself look suspicious. Border patrol and airport security are trained to spot suspicious activity and body language.
No, the airport screening is just a normal procedure for all arriving in a different country or state. It will depend on what kind of passport you have and where your destination is. This screening process will not affect your anonymous travel. Just make sure to practice answering based on the identity you are using so that you do not mix your real identity with your second one. Here are the most commonly asked questions during the screening process:
What is your purpose for this trip?
How long are you staying?
Do you have a place to stay?
What is your occupation?
Do you have something to declare?
Practice, practice, and practice. Traveling anonymously and using a new persona is very hard, especially if this is your first time. You need to familiarize yourself with the Legend/life story associated with your second identity. This is very important to avoid attracting attention to yourself. You need to stay low-key if you want to anonymous travel to a new location. By practicing telling your story, you will be more convincing. Stay calm during the process and always keep your story simple and uncomplicated. Be confident when a customs agent is talking to you. Do not fidget around and remember to stay calm and relaxed.
If you are returning from traveling overseas, you need to show a passport. Even if you are traveling via airplane or cruise line, you will still need to show your passport. In some cases, you need to show a valid passport before boarding an airplane or cruise ship. In addition, if you are crossing a border, you need to prepare a passport.
Some countries and states are more strict when it comes to entering their territory depending on what your passport is. For example, if you have a US or Canada passport, you can pass through different states in the US and Canada because the borders are unguarded. If your destination is Mexico, anybody can enter.
You need to prepare a valid passport, legal ID, a backstory, cash, and banking accounts in the name you are using? If you want to travel anonymously, you can't use your real identity's credit card because it will leave a trace. Also, memorize and practice your backstory before traveling. Remember, if you are crossing the borders or traveling to a different country, you will need to answer a few questions to verify your information. You will need to fill out a Customs declaration form and will be asked by customs agents. Having a second identity and passport will greatly help to travel anonymously.
Here are a few tips on how you can stay an anonymous traveller:
Avoid taking photos of yourself during your anonymous travel.
Do not post on your social media account during the trip. Minimize or totally leave your social accounts when you travel anonymously. You can also use automatic publishing on your social media accounts to avoid suspicion.
Only use cash in any transaction.
DO NOT use your credit card from your previous life. Your credit card can be easily tracked.
Use a different phone. This is very important if you think you are being traced and tracked by dangerous people. Your phone can be tracked with the right technology.
Yes, especially if you are using a name and passport in your anonymous travel that is not legally acquired. This means that you acquired it from malicious people or you are using the information of a deceased person. These two cases are illegal and you can be arrested for fraud and identity theft. We highly recommend working with a legal second identity service provider such as Amicus International Consulting. We work as a referral agent and connect you to experienced international lawyers that will help you get a new identity, a second passport, and travel anonymously without encountering any problems in the future. Contact Amicus today for a free case consultation.
Anonymous Travel Is Simple and Easy With Amicus

Challenge
Anonymous travel has its own unique set of challenges that you need to overcome such as biometrics, facial recognition software, RFID, and more. In addition, you need to practice your own backstory to make the customs agent believe you and your story. This is important if you are crossing the border or traveling anonymously to another country. Remember, each country has its own set of rules and regulations in letting tourists come into their country or state. But if you work with Amicus International Consulting, you can easily and conveniently travel to any part of the world without worry. We will deal with all the challenges for you.

Solution
When you travel anonymously with your new legal identity and a second passport in hand with all the legal documents needed, you can enjoy your anonymous travel with ease. We will help you get in touch with experienced international lawyers that can help you protect and hide your identity during your travels around the world. All the documents, new identity, and second passport provided are legally acquired and can be used all over the world. Contact us and let us know of your circumstances. We will find the solution for you.

Results
Amicus International Consulting acts as a referral agent that can get you in touch with expert international lawyers. All the solutions and options we provide in our anonymous travel service are backed by the newest international laws and regulations to make sure you can travel anonymously without any problems. All the documents, new identity, and second passport you get from us are all valid and legal. Travel in any part of the world when you want to without worrying about your security and safety.






Get A Free Case Evaluation
Due to the Nature and Complexity of the Work we do at Amicus International Consulting, we can only take on a Limited Number of Clients each Year.
Subscribe to Our Newsletter for the Latest Updates